When Karl Sandoval started as a luthier he probably never imagined the hands that would play his custom electric guitars…
Here is a sampling of some of the incredible talent that have enjoyed and mastered their craft with the use of a Sandoval Custom Guitar: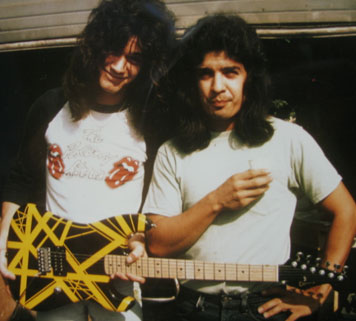 Eddie Van Halen (Left) of the rock group Van Halen with a young Karl Sandoval in the 80′s. Karl was very involved in the development of Eddie's Yellow stripped strat.
Daron Malakian (Left) of the rock group System of a Down with Karl Sandoval. Daron Malakian checking out the Sandoval Telmaster. Evidence of recording artist's recognizing Karl's abilities of creating an iconic custom electric guitar. Daron is a proud owner of two Sandoval Dot V 's.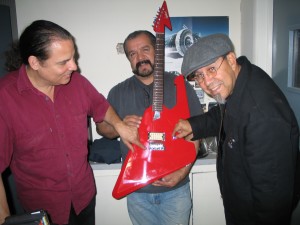 Bob Robles (Left) outstanding guitarist Karl Sandoval (Center) Willie G. (Right) of the 60′s rock group The Midnighters. Two great recording guitarists, songwriter icons admiring Karl Sandoval's Streamliner custom electric.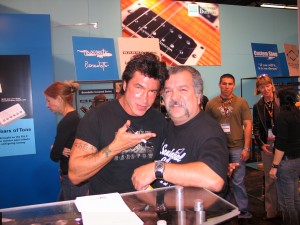 Legendary George Lynch of the rock group Dokken greets Karl Sandoval at the Namm show in Anaheim. Karl built a custom Sandoval V for George which inspired Randy Rhoads to acquire the skills from Karl Sandoval to create and fabricate the iconic Sandoval Dot V.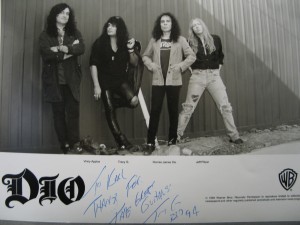 Tracy G of the rock group Dio (2nd from left). Tracy was very creative in the choice of a Sandoval Custom Strat.
…Are you next?